Nowadays weddings are becoming more tempting as brides and grooms are following and making new traditions on their own! One more new concept is getting into the trend is "THE BRIDAL ENTRY".  Previously there was no concept or no tradition of the bridal entry. Earlier the Bridal entries were so normal and boring. But now our Brides are getting more fun and creative! Ahaan no doubt. Our brides are assuring that everyone just not notices them, but even remembers their entry.
Here are some grand bridal entries ideas :
#1. Smoke bombs entry.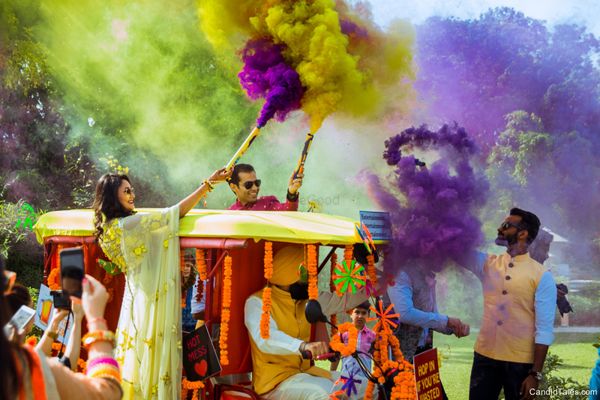 The smoke bomb entry is one of the famous bridal entry, which works really well if you are planning an outdoor day wedding. It looks so mesmerizing.
#2. Diyas or petals entry with your bridesmaids.
Just imagine how beautiful it will look, you are in the center and walking towards your groom and your bridesmaids holding some diyas or petals in their hands and walking along with the bride! This sort of entry goes well if the all the bridesmaids are having an outfit coordination, which contrasts the brides.
#3. Entry on a Segway.
Segway is so happening and so in these days. If you don't want to go with the typical shy entry and want to create an impact of your bridal entry the segway entry is a perfect choice.
#4. Dancing entry.
A bride Swati danced on the "Banno tera swagger" track with all her friends and siblings while taking an entry. Such a cool idea for all the bindass brides out there.
#5. Entry with bubbles.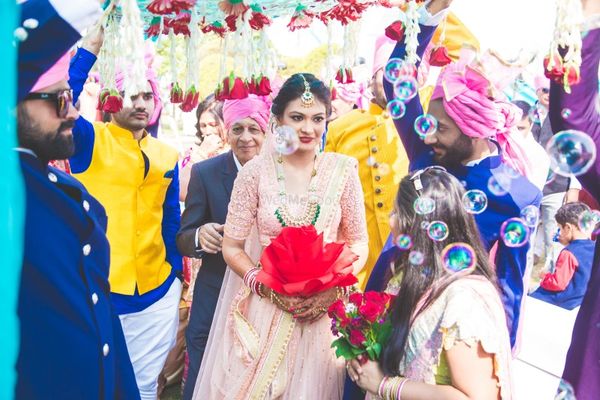 Aww! entering with bubbles is so cute. Isn't it? Pictures will look good too.
#6. Entry under a chaadar.
Nowadays, brides are entering under very beautiful chaadars. They are not phoolon ka chaadar anymore, because now they are made up of a lot more creative things! These chaadars are super cool.
#7. Entry in a palki.
Enter like a queen, in a palki. The only misconception with this is that as you will be sitting inside the palki, a lot of your outfit will be hidden, but it seems to be a surprise element when you come out from the palki.
#8. Entry with sparklers.
Entering with sparklers will definitely look great and royal! It will go well for a night wedding.
Let us know which idea you like the most!